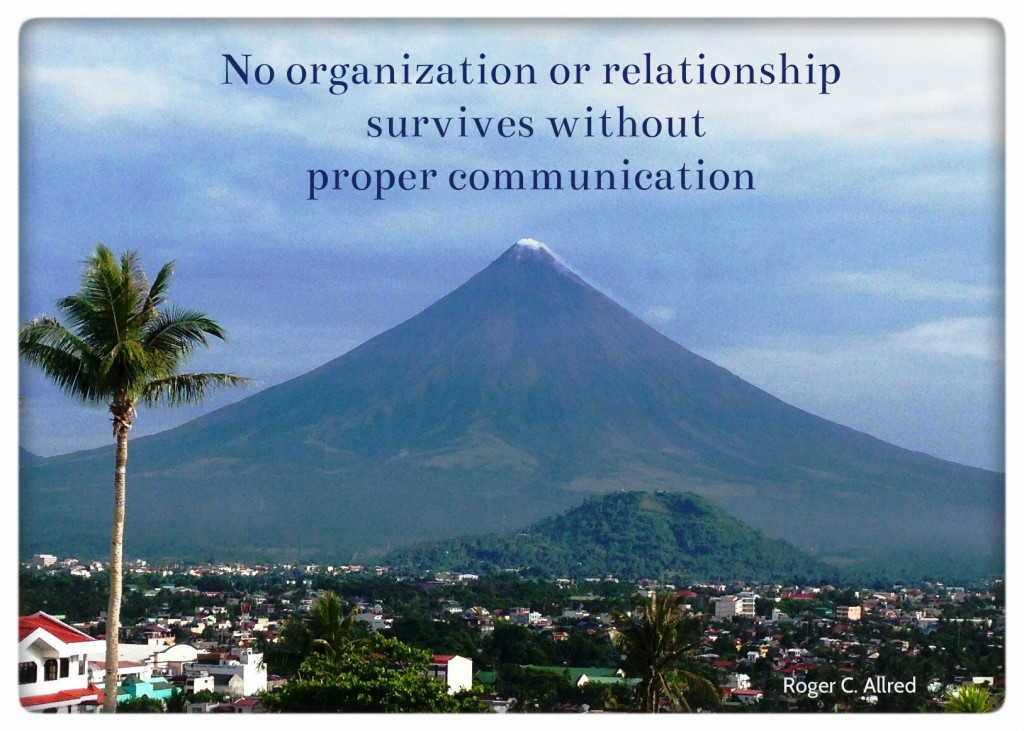 Communication is essential for a solid marriage, a healthy family, a successful soccer team and a profitable multi-national corporation.  It is the mechanism that creates the necessary synergy to accomplish a goal.  
In fact, no organization or relationship survives without proper communication.    
There are over 23,000 books listed on Amazon on the topic of communication, so communication problems are not a secret.  I will focus on one that hits close to home.
My wife tells me quite often, "It's not what you say; it's how you say it."  Sometimes, it is what I say that creates the problem but this article will deal with the "how."  
The concept of "it's how you say it" applies to all communication.  I will use a husband and wife as an example, but the principles apply equally to communicating with teenage children, with your kids' teacher or with your boss at work.
Assuming that you know what you're talking about and have the ability to express yourself adequately, communication will improve when you consider:
1.  Does the tone of my voice indicate what I am trying to communicate?
No matter what I am thinking or feeling, if the tone of my voice is not appropriate to my wife, my ability to communicate with her is drastically diminished.  It helps me to take time to decompress from work or an intense situation before interacting with her so that my emotion doesn't spill over to our conversation.
2.  Is the volume of my voice appropriate?
The volume of one's voice is sometimes hard to gauge.  Using the reaction of another can be a good indicator of your volume, but that could be too late.  Consciously try to soften your voice, unless you are warning of danger. 
3.  Does my body language show that I am interested to communicating?
The best way to engage another in a conversation is to begin with a smile.  When we were dating, I would never have thought that scowling would be the best way to impress my future wife.  The same applies to the message you send if you talk to another with crossed arms and a haughty look.
4.  Do I maintain eye contact when speaking?
If the eyes are the windows of the soul, avoiding eye contact will give the impression that you are hiding something or that you simply are not interested.  You might have something important to say but if you do not maintain eye contact, your message could be lost.
5.  Do I avoid sarcasm?
Sarcasm is the language of arrogance and/or ignorance.  It can be used for humor sometimes, but you have to use caution.  Sarcasm usually ends sincere communication.
6.  Is my silence appropriate?
Silence can be a useful communication tool.  When I am pondering what has been said, it shows respect for the other person and their opinion.  However, I know bosses that use silence to intimidate employees.  In a marriage, the silent treatment never leads to resolution of a problem.
7.  Am I responding to the concerns of the other person?
If I speak eloquently about a problem with my wife, but it is not the problem that she sees, I have failed. Being responsive to the other person is infinitely more important than eloquence. 
8.  Will my relationship with the other person help or hinder the communication?
You can't fake "sincere" with people who know you.  Often, you can't fake it with anyone else.  But, if we have the proper relationship with others, we can effectively communicate, even if we don't express ourselves well.
The "how" is just as important as the "what" when communicating.  Here is a simple example.  We have all been complimented.  We all know that the same words spoken by different people have very different meanings.  Someone can say, "I love you" and it melts our heart.  Others can say the same words and we know it is just hollow nonsense spoken only because it sounds nice. 
As George Bernard Shaw said, "The single biggest problem in communication is the illusion that it has taken place."  The best way to overcome that illusion of communication with our spouse, child, neighbor or boss is to consider carefully not only what we want to say but how we say it and how we can increase the trust in our relationships.  As a result, our relationships will not only survive, they will thrive.