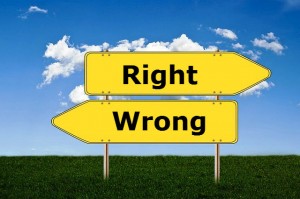 Early in my executive career, I was the CFO of a construction company.  The company picnic was held on a Sunday the second year I was there.  I missed the picnic so I could teach a Sunday School class.  The owner called me into his office on Monday and asked why I wasn't at the picnic.  When I explained my obligation to him, he responded that if I wanted to advance in the company I would have to always put the company first.  I told him that the company was not my first priority in life.  I then said that I would always get my work done but being true to my commitments would be my first priority.  A month later, he fired me and hired his brother-in-law.
Even though I was the sole supporter of my wife and five children, I never regretted that decision.  It took ten months to find a new job, but I never regretted my decision to be true to my sense of right.  As my mother taught me, "Do what is right, let the consequence follow."  I cannot claim to always have done what is right, but I know that when I have followed my mother's counsel, I have been content with my decisions. 
The lesson of this story is that everyone must establish what is most important for themselves – their principles.  If you compromise those principles, you lose your moral ground, which makes each successive compromise easier.  Eventually, you lose all integrity.
Integrity can be defined as a firm adherence to a code of moral values;  incorruptible.  It is the stuff of which great men and women are made.  It is absolutely essential for an exceptional leader.  As President and General Dwight D. Eisenhower said, "The supreme quality for leadership is unquestionably integrity.  Without it, no real success is possible, no matter whether it is on a section gang, a football field, in an army, or in an office."   
Some might say that putting a career before everything else is a good thing, both for the individual and the employer.  My response is that when a job becomes more important than one's principles, the sense of right and wrong is distorted.  This distortion is what has allowed so many perpetrators of corporate fraud to justify their actions.  After all, they were being true to their highest priority – getting ahead in their career.
From the employer's perspective, if the employee has put his or her life on the altar of their job, consider what they might be capable of if they ever felt like they were not being treated fairly.  They would have no virtuous principles to temper their decisions.
In the last 15 years, we have seen massive fraud in financial markets.  The size of fraud in government, sports, entertainment and non-profit organizations is typically not as large but it is just as prevalent, and the impact on employees is the same.  The root cause is all the same – the lack of integrity.
It would be well to remember the words of Richard Herlin, partner at the CPA firm of Deloitte, "There's nothing – no issue, opportunity, client, boss, or fee – that should compromise your integrity or divert your moral compass."
When a manager compromises his integrity or diverts her moral compass, the problem has a ripple effect in the organization.  In addition to the potential problems created for the company by a manager himself, there are two typical responses from the employees.  The honest employees will begin to look for a new job because they have lost trust in their manager.  The less honest employees are likely to follow the actions modeled by their boss.  Dishonesty, lack of trust and turnover combine to do tremendous damage to the organization. 
A good leader will be true to her moral compass.  He will never compromise his integrity.  She will do what is right.  The employees of good managers will usually respond in kind and the organization will prosper.